FleetTraks releases another software upgrade, helping fleet Route Optimization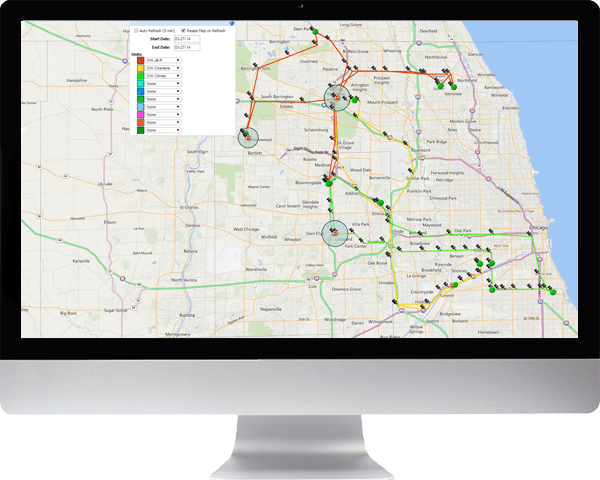 If you have more than a couple of vehicles servicing a market, you already know that it's difficult to plan efficient routes. Efficient routes are a must for any company. They also enable better customer service.
There are many ways companies route their vehicles. Sometimes groups of drivers decide which customers they are going to service. Some operations assign route optimization duties to a dispatcher. Expensive third party programs are another option.
FleetTraks GPS fleet management provides companies with many tools to help with route management. FleetTraks most recent upgrade helps with Route Optimization. FleetTraks now provides the ability to overlay the routes that up to 10 different vehicles traveled.
This new functionality enables management to see the big picture. Crisscrossing history is now visible. Supervisors now have the information available to make the operational changes for future routing decisions. Eliminating crisscrossing reduces fuel costs, and vehicle wear and tear. It also increases employee productivity.
There is no additional charge for the Route Optimization feature for FleetTraks customers.
Using the route optimization software is effortless for the FleetTraks user.
1. From the home page, click on the first employee/driver that you'd like to include in your analysis
2. This will take you to the unit history page
3. Set the date range on the unit history page. It's best to analyze one day at a time
4. Next, click map history from the unit history page
5. Maximize your screen
6. You will now see a small blue arrow in the center of your screen at the top
7. Click on the blue arrow
8. Add up to nine more drivers/vehicles by clicking on the drop-down menus
9. Click the blue arrow again to hide the route optimization tool and view your results
On-going training and support for FleetTraks customers is always provided at no charge. To learn more about this enhancement contact customer support at 877-340-0300 x 290. Our email is support@on-board.com.
To learn about how FleetTraks fleet management can make your company more profitable, click on the Sales Inquiry button at the bottom of this page.
https://onboardcommunications.com/wp-content/uploads/2014/07/on-board-logo.png
0
0
Bob Wagner
https://onboardcommunications.com/wp-content/uploads/2014/07/on-board-logo.png
Bob Wagner
2014-03-14 18:35:46
2018-12-12 00:26:49
Route Optimization l Analyze Your Performance