FleetTraks releases Route Planner. Another software upgrade to its GPS fleet management system.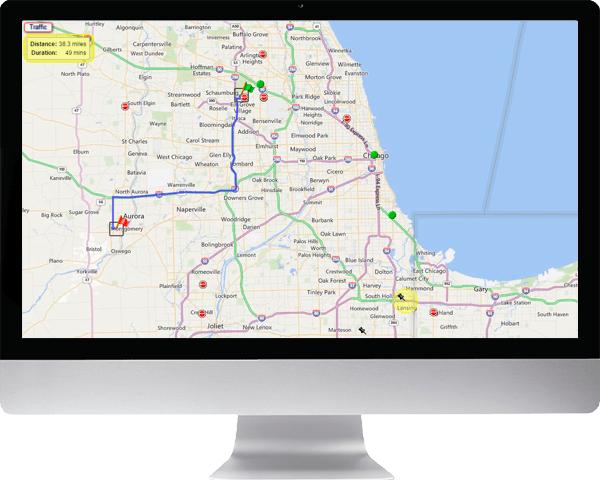 During a busy day in operations, dispatchers have to make many decisions, sometimes very quickly. These decisions often include directing a driver which route to take. FleetTraks makes these decisions easy with the release of its Route Planner upgrade. 
With a few simple keystrokes, dispatchers now have the ability to determine the distance and time that it will take to complete a route before making any final decisions. By utilizing the Route Planner, dispatchers will be able to determine the best route. An efficient route will minimize miles travelled. It will also reduce employee payroll. Customers will enjoy the increased level of customer service.
There is no additional charge for the Route Planner option for FleetTraks customers.
Using the Route Planner software is painless for the FleetTraks user.
1. From the home page, click on Mapping.
2. This will show you in real time where all of your vehicles currently are located.
3. Place your mouse over the vehicle that you would like to create a route for and right-click.
4. Next, select set Route Start, this will place a green flag at the beginning of the route
5. Next, find your destination. If you do not know where the destination is on the map, right-click on Find Address and enter the address.
6. Once you have found the exact destination on the map, place your mouse over that right-click and choose Set Route End. You will then see the stop flag.
7. The route will then be presented on the map along with the Distance and Duration shown in the upper left corner of the screen.
8. The same functions can be performed from the Unit History page, Map History.
On-going training and support for FleetTraks customers is always provided at no charge. To learn more about this enhancement contact customer support at 877-340-0300 x 290. Our email is support@on-board.com.
To learn about how FleetTraks fleet management can make your company more profitable, click on the Sales Inquiry button at the bottom of this page.
https://onboardcommunications.com/wp-content/uploads/2014/07/on-board-logo.png
0
0
Bob Wagner
https://onboardcommunications.com/wp-content/uploads/2014/07/on-board-logo.png
Bob Wagner
2015-04-01 18:35:31
2018-12-12 00:24:24
Route Planner l Route Planning and Fleet Tracking