Route Planning is now much easier with the addition of "Sites" to FleetTraks.
Often times during the day, a customer need will arise that requires immediate attention. It's the dispatcher's job to provide excellent service but still maintain an efficient operation. The dispatcher needs to know where his fleet is and where they should be for the balance of the day. Without the complete picture, dispatchers often crisscross their vehicles on the road. This causes extra miles, and a loss of productivity.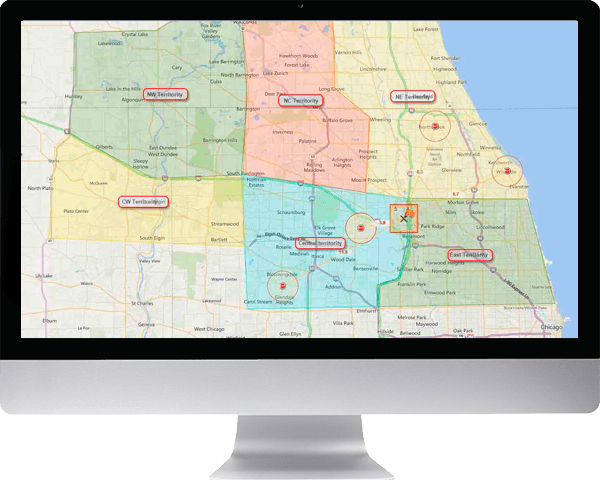 By utilizing FleetTraks new route planning tool, Sites, users will be able to view their vehicles by territory in real time. They are then able to get the complete picture and find the closest vehicle to service the customers need. The result in most cases is the ability to keep drivers in their preassigned territories. This enables better customer service with the minimal vehicle miles.
Territories are easily drawn on the FleetTraks map from the home page. To create a territory, users can follow these simple steps.
From the home page, select mapping
Right click anywhere on the map and choose Create New Site
Find the exact location of one of the boundaries of the new territory and right click again. This will create the first boundary of the territory.
Continue to add points by finding the exact location of next boundary. Add the boundaries by right clicking until the territory is complete on the map.
Right click again. You will then name, color code and save the territory.
To learn how to use the find the closest vehicle feature, follow this link; FleetTraks route mapping software receives closest vehicle upgrade.
On-going training and support for FleetTraks customers is always provided at no charge. To learn more about this enhancement contact customer support at 877-340-0300 x 290 or email us at support@on-board.com.
To learn about how FleetTraks fleet management can make your company more profitable, click on the Sales Inquiry button at the bottom of this page.
https://onboardcommunications.com/wp-content/uploads/2014/07/on-board-logo.png
0
0
Bob Wagner
https://onboardcommunications.com/wp-content/uploads/2014/07/on-board-logo.png
Bob Wagner
2012-12-01 18:40:38
2018-12-12 00:22:26
Route Planning l Plan Routes Real Time By Territory